DJ lighting controllers have been pretty much unchanged for the past few years. As such, when a dramatically different new lighting controller hits the market, we get excited. Today, ADJ lighting dropped the news of their new WMX1 standalone DMX lighting controller. This hardware controller is radically different from others we've seen in the past. Looking partly like a music production tool and partly like a DJ mixer, it's unlike any other DMX controller we've seen.
Looking to pick one up? Order HERE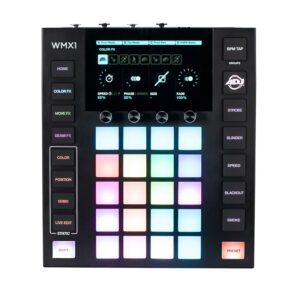 ADJ Lighting WMX1 – Hardware layout
First things first, the WMX1 is a standalone DJ controller – no computer needed. Out of the box, you're able to control one DMX universe (512 channels). If you want, you can expand this up to 4 whole universes, which each have dedicated outputs on the back of the unit. The controller can handle up to 50 unique fixture types, 680 different fixtures and beams, and up to 5000 individual fixture "features" like gobo and color. Users can select from over 3500 pre-installed light profiles on the controller. Light not already installed? No worries – there are over 15,000 more available online.
Build quality
The ADJ Lighting WMX1 looks similar to an MPC or Novation Launchpad. In the center are 20 backlit silicone rubber trigger pads. There are 17 more pads surrounding this center area. In the top center is a 4.3″ color display with capacitive touch functionality. The encoders are full-body alloy, with incremental push and acceleration control.
The DMX controller is made of plastic with a steel base plate. Around the back are two 3-pin DMX outs and twp 5-pin DMX outs. Want to sync your lighting to your music? Trigger your programs via the omnidirectional electret mic or 3.5mm lin-in. And despite all the processing power and hardware, the unit only weighs 2.36 pounds.
Built-in effects
One of the areas DJ hardware DMX controllers have historically fallen short in is FX generators. The WMX1 solves this with a powerful built-in processor that can create a variety of effect types. The WMX1 is capable of creating 8 different color, move, and beam effects. In addition, it includes 16 definable colors for these effects. There are additional pallets for static positions and gobos. Triggering special effects is done with 6 dedicated flash buttons. These include strobe, blinder, speed alteration, smoke, special effects, and blackout.
Global control
The ADJ Lighting WMX1 brings other interesting features to the table normally seen in software controllers. Group and master dimming allow you to control the entire light show globally. You can link the controller to Ableton or tap a BPM manually. Additionally, the effect speed, phase, order, size, fade, fan, and flick are also individually adjustable.
The list of features is much longer than those we've already gone over here, but we thought we'd include a few more of our favorites. You can choose to limit spot or beam fixture areas to prevent overspill onto undesired locations. Similar gobos are automatically matched between different fixture types. Additionally, there is a fixture FLIP function for reversing the order of beams. Have we convinced you how awesome this DMX controller is yet?
ADJ Lighting WMX1 – Final thoughts
In conclusion, there's no doubt that the ADJ Lighting WMX1 is a gamechanger. We see it as the perfect combination of hardware control and software functionality. DJs enjoy tactile control – the WMX1 offers that to them. Whether it's the built-in effects generator or global control options, there's a lot to love about the WMX1.