We've said it before and we'll say it again – as DJs, we appreciate products designed with ease of use in mind. Between prepping music and handling timelines, we've got a lot on our plates. The less time we can spend worrying about, for example, whether we have all of our uplights or if they're charged, the better. Enter the ADJ Mirage Q6 PAK. Recently announced by American DJ, this new 6-pack of battery-powered uplights looks like it means business. Going beyond the typical features we've seen in an upright, the ADJ Mirage Q6 PAK has some unique tricks up its sleeve.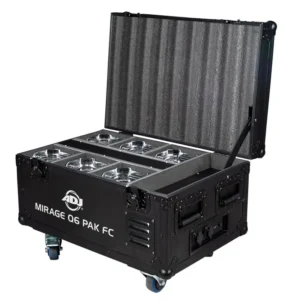 Want the best deal on the ADJ Mirage Q6 PAK? Be sure to visit djeventgear.com
One thing stands out right away with these uplights – the chrome metallic finish. Black and white fixtures have been the staple for years, so we give it points for being unique. It's eye-catching to be sure, but ADJ says it also serves a purpose. Instead of either 1) standing out or 2) only being able to blend into certain color schemes, the chrome finish reflects whatever environment it's placed in. Stick your uplights in planters? They'll reflect the foliage as well as the surrounding color. Placed up against a white wall, the light will fade into the background and not detract from the decor.
It's also worth mentioning that the lights are IP65 rated. They'll stand up to dust and dirt, as well as the unanticipated inclement weather. Some DJs don't see this as a big selling point, but you never want to be caught unprepared. There's also a locking power output for daisy-chaining multiple systems together. Talk about ease of use!
Innovative Charging Case and Batteries
The ADJ Mirage Q6 PAK charging case is also worth a mention. It's big, beefy, and protective. Fully loaded it comes in at a hefty 97 pounds! Thankfully, a set of casters will make rolling it around a more manageable task. What's more important, however, is the built-in charging mechanism.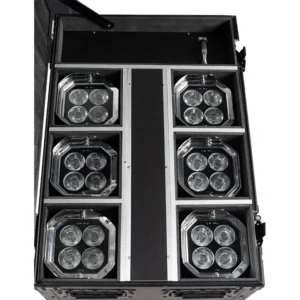 Instead of needing to place the lights in a "charging" or "load off" mode and plug them in, users simply drop the lights into their storage slots. They automatically connect with the charging hardware and begin to charge. On the top of each light is a small LED that illuminates when the light is fully charged. There's no need to pull the lights out and check the display to see if they're are ready to go.
All of the lights charge via a single included IP65 power cable. Oh, and it's locking, which is always an appreciated benefit. With full batteries, the uplights can last for a very impressive 40 hours on a charge. Even when running multiple colors, these can run almost an entire day – 20 hours!
Build quality is great, but how do the lights perform? According to ADJ, they've beefed up the power with 4 x 10W RGBA LED diodes. The addition of amber is a welcome one for many DJs who are looking for warm whites and amber tones for a wide variety of event types.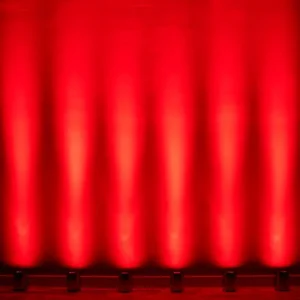 What further improves the output of these uplights is the somewhat narrow 11-degree beam angle. A narrower beam angle allows the light to punch farther up tall walls, reaching toward the ceiling without losing power. Illuminating large trees outdoors is also easier when the lights can actually make it to the top without becoming too diffuse.
An Alarm System?!
Yes, you heard us correctly. ADJ has its ear to the ground in the DJ market, it seems. DJs have been asking for some way to monitor their uplights at events for quite a while. And rightfully so – uplights aren't cheap, and having one walk-off mid-event is not appealing.
With the alarm turned on, if a guest decides to pick up your light for whatever reason a few things will happen. First, a loud beep will audibly alert you that the light has been moved. Additionally, the LEDs will change to red and begin to flash. SO. HANDY.  Oh, and if you feel like the alarm feature is necessary at a certain event, it can be easily disabled via the internal menu.
In addition to everything mentioned here, the ADJ Mirage Q6 PAK has even more to love – super long-range EXR wireless DMX, 64 color macros, and a built-in kickstand to name a few things. For DJs looking for premium, professional uplights that offer the utmost in quality and features, the ADJ Mirage Q6 PAK is worth a look.
VISIT DJEVENTGEAR.COM OR CLICK HERE TO READ MORE ABOUT THE ADJ MIRAGE Q6 PAK