The Impending DJ Business Boom
We saw a story the other day whose headline shouldn't come as a surprise to anyone in the entertainment industry. According to the article (which you can read here), there will be an estimated 2.5 million weddings in 2022. To put that in perspective, there were around 2.1 million weddings prior to the pandemic and only 1.2 million during 2020.
And this giant increase in growth isn't just expected in the wedding sphere. Events and parties of all sorts are expected to rebound and grow exponentially in the coming year. While some chose to hold smaller gatherings or virtual get-togethers, a large number of people have postponed their celebrations in anticipation of the end of the pandemic. More demand, a limited number of DJs, and the desire for an incredible event are all fueling the next big DJ business boom. Being a DJ is fun, but now more than ever is the time to actually make money as a DJ.
Check out DJEVentGear.com for our curated collections of DJ Gear, Pro Audio and Lighting.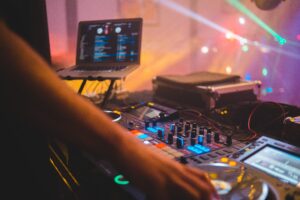 Now we can't predict the future, and COVID-19 is far from completely gone. However, restrictions on events are easing up and the world is beginning to reopen. Many DJs did record numbers of events during 2021, and those records should be broken in 2022. Budgets for events are also on the rise, having caught up to pre-pandemic levels. All of this adds up to one common denominator – 2022 is shaping up to be one of the biggest on record for DJ businesses across the country. Today, we're going to talk about the factors we think are playing into this bounce back and why you should be using this time as a springboard for your DJ company.
People are anxious to party
Unless you've been living under a rock, it's easy to see why people are anxious to return to in-person events. Sure, everyone had a moment of fun with virtual events and zoom parties. But let's be real – the excitement and novelty quickly faded. Just take a look at some of the biggest names in the DJ industry. Many all but abandoned their weekly mix shows as soon as booking inquiries began to flow back in. There's nothing that can truly replace the feeling of performing in front of a live audience. And while there are a few who have some income from streaming, getting in front of real people is the best way to make money as a DJ.
These feelings are not just shared by DJs, however. Our potential clients – brides and grooms, companies, schools, and more – are all feeling the draw to human connection. The vast majority of people have done their part in social distancing and obeying guidelines to keep people safe. However, the time to return to normal life is drawing ever closer. Everyone is fed up with interacting with screens and yearning to talk, drink, dance, and socialize with their friends and loved ones. Some have been patient (excruciatingly so) as they put off the biggest celebrations of their lives in anticipation of the pandemic's end. These are just some of the factors fueling the impending DJ business boom.
Event numbers (and their budgets) have grown
The pandemic has changed a lot about our everyday lives. The way people interact, do business, date, and more have all changed. A lot of people began or solidified their relationships during the pandemic. Even more have gotten engaged. If you're a wedding DJ (or thinking of becoming one) there has never been more demand for your services.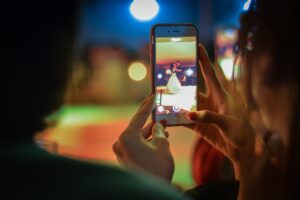 In addition, people haven't been just sitting around during the pandemic (well, maybe some). Many have been working, saving, planning, and imagining the details of their event. As time has gone on anticipation has increased. With less money being spent on dinners and outings, bank accounts for special events have grown. Corporations are sitting on large portions of their budgets dedicated to entertainment, employee appreciation, and yearly gatherings. Many of those accounts have been untouched or minimally accessed since early 2019. These businesses are ready to show their hard-working employees how grateful they are for their work during the pandemic.
People realize the importance of a good DJ
If there is anything people learned from the huge amount of DJ streaming at the beginning of the pandemic it's this – there are some really good DJs and some who have some work to do. It became easily evident for regular people to see what a DJ actually does. On any given night, potential clients could tune into a dozen DJ streams and see just as many different styles and skill levels. People who may not have considered the impact a good DJ can have on their event have now seen what proper beat matching and mixing can do. The average person is aware of just how good (or bad) a DJ can be.
Because people now see the difference between good and bad DJs, they are aware that the good ones are getting booked up. Fearing that they will be stuck with a less talented DJ, people are prioritizing their event entertainment. Instead of worrying about venue or food first, many are locking down their DJ before any other event details. Due to the huge increase in demand, clients are starting to hold their events on less traditional days like Thursday and Monday. DJs who used to work only Fridays and Saturdays are suddenly doing three, four, or even more events per week. The elusive weekday gigs are starting to appear and be a great way to make money as a DJ.
Check out DJEVentGear.com for our curated collections of DJ Gear, Pro Audio and Lighting.
Can I make money as a DJ during the DJ business boom?
Absolutely. There has never been a better time to a) become a DJ or b) get back into DJing. A lot of full-time DJs had to step back and take care of their necessities during the pandemic. Many knew that this would only be a temporary roadblock and that events would return. Now is that time! If you have the drive to learn to DJ or the motivation to improve your skills, there is more than enough work to go around for anyone wanting to entertain.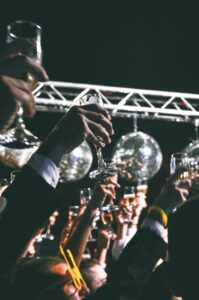 Perhaps you're a bedroom DJ. You got into DJing during the pandemic and spent the past year and a half learning the ins and outs of your controller. You spent hours finding and downloading new music that you could work into your sets. Maybe you even bought some gear to set up around the house for practice. Making the jump from DJing at home to working with a real audience can be daunting. Seek out the help of DJs in your local area! Many are booked full, doing multiple events per week, and are having to turn potential clients away. Find a DJ company you can join and start turning your new skills into an income.
If you previously were a part-time DJ, this might be the time to make the jump to full-time work. There's nothing more gratifying than doing what you love for a living. Switching from part-time to full-time DJing is a scary transition – I know because I did it myself. You're not quite sure if there will be enough work or how you will navigate the slower parts of the year. However, as we transition into 2022, you can most likely rest assured that the coming DJ business boom will carry you through the thick of event season.
We're here to help you be the best DJ you can be
Here at The DJs Guru, our goal is simple – to help you improve your craft, grow your business, make money as a DJ, and be the best possible entertainer you can. Please connect with us on social media and participate in our Facebook discussions. Whether it's the newest gear reviews or articles on how to grow your business, we hope that The DJs Guru is valuable to you.
Check out DJEVentGear.com for our curated collections of DJ Gear, Pro Audio and Lighting.