DJ controllers come at a lot of price points. You can find budget models for one to two hundred dollars. Top-of-the-line options cost well into the thousands. But what about those of us looking for a nice middle ground? For example, is it possible to crown the best DJ controller under $600? We think it is, and what's even better is what you can get for $600. Today, we are going to dive into the Numark Mixstream Pro, a full-featured standalone DJ controller that has everything you need to DJ right out of the box.
We're big standalone fans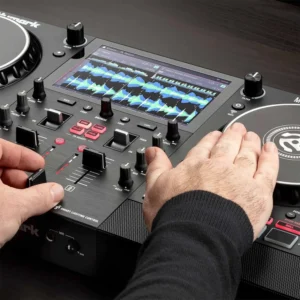 When it comes to DJ gear, we are big fans of standalone gear. Being able to pick up and go with our equipment is a big plus. Getting out and performing with as little gear and hassle as possible is the name of the game. The Mixstream Pro from Numark is the company's first venture into this arena and we think they've knocked it out of the park.
Getting started with DJing can be confusing. You need a controller, a laptop, music, cables, and a host of other items. If you're a beginner DJ or a parent looking for a gift for their child, it gets overwhelming – fast. What's great about the Mixstream Pro is that they've put all of these essential DJ components into one single package. Laptop-free music playback? Check. Speakers? Check.
However, if you're a pro-level DJ you shouldn't shy away from this controller either. There are things we always love to see in any controller; for example, the XLR outputs. The feel of the platters and the design of the faceplate look familiar to experienced DJs. A controller like this could easily replace the veteran DJ's backup iPad. A Mixstream Pro stashed away in a bag with a thumb drive loaded up is a stellar plan B. It could be plugged in and turned on at a moment's notice. No need to boot up a laptop and deal with the controller connection process.
Features galore
Diving into the details of the Numark Mixstream pro we are first greeted by a lovely 7″ touchscreen. If you aren't a fan of a touchscreen, the always dependable browse knob is still around. Looking around the menu we see a ton of tempting options. Streaming services, dropbox folders, and more are all at our fingertips. For newbies that want to get practicing right away, the controller even comes loaded with a few demo tracks. Loading one up and hitting play leads to sound immediately floating from the built-in speakers.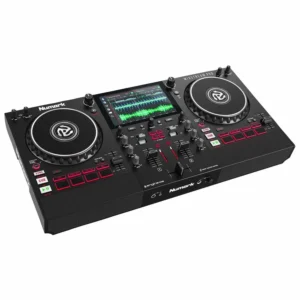 There are plenty of other important and classic DJ controls on this setup. Cue points, loop controls, and roll functions are all present on the large pads near the bottom. Something we don't see as often is the "smart scratch" feature. This handy shortcut allows you to scratch a song's sounds while the track continues to play underneath. This allows you to jump back in from your scratch without missing a beat.
Going back to the common we have 3 band EQ, gain control, and effects located in the middle of the controller. These effects can be activated with a toggle control – we like to see that. There's also a filter near the top of the mixer section. The built-in speaker has its own level of control that can be completely silenced if desired. If desired, you could use the built-in speakers as monitors in a pinch. Even with the volume maxed out, there isn't much distortion, which should save the speakers from damage if you try and go too high with them.
The final details
If you take a look at the back panel you'll find a USB input, 2 connections for USB storage, an SD card slot, RCA outputs, and the much-appreciated XLR main outputs. The power cable is a small DC input (nothing too exciting here).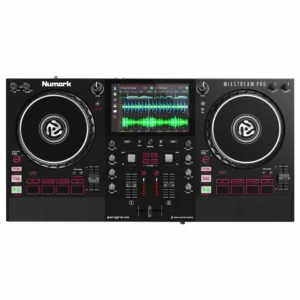 Build quality seems solid and the design is modern and stylish. The build is plastic but so are a lot of budget controllers, so we can't ding it for that. Rubber feet on the bottom should keep it firmly in place when needed. We wish the screen was tiltable instead of being stuck in the flat position, but at this price, we can't complain. Ultimately, we resorted to placing the controller on a laptop stand at an angle, which seemed to do the trick for us.
With that being said, we'd like to round out our review of the Numark Mixstream Pro by saying this is a great option for beginner and veteran DJs alike. Is it the best DJ controller under $600? It certainly is a strong contender. If you'd like to chat about the Mixstream Pro, be sure to reach out to us. If you want to pick one up for yourself, click here to be taken to djeventgear.com or order our best-selling package below.