Here at The DJs Guru, part of what we're doing is making mistakes. Why you may ask? So that you don't have to. Not too long ago, we made a little CO2 gun mistake, and today we'll tell you about it. Additionally, we'll give you the scoop on the Club Cannon Handheld MKII and why it's everything we've been looking for in a CO2 gun.
So, we messed up…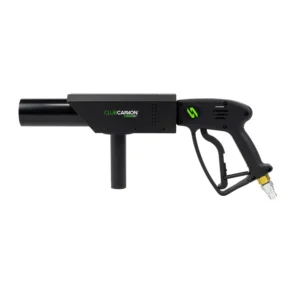 Last year, we were hired to do an event that required a CO2 gun. We didn't know much about CO2 guns, and we must admit we did not do our research (shame, shame, we know). So we hopped over to a 3rd party website and grabbed the first gun that caught our eye. It looked great in the picture and even had flashing lights – score!
Once we had it in hand, however, we were less than excited. In real life, the gun itself looked a touch basic. The lights were cool, but after a while, we admitted there were a little cheesy. We could have lived with both of these things – unfortunately, there was a bigger issue. Both of the times we used the gun it gave us problems. First off, it wouldn't connect to the tank properly and we were having leaks left and right. Secondly, it required a monkey wrench for its connection, which was super inconvenient.
We quickly realized the error of our ways.
A solution to our problems
The solution to our problems was right in front of us all along. Club Cannon had repeatedly approached us in the past, and it finally occurred to us to connect with them. After getting in touch and hearing their story, we were impressed. The company was started by a mobile DJ who was inspired by the use of CO2 in Las Vegas clubs. From this inspiration, the Club Cannon (and now the Club Cannon Handheld MKII version we have today) was born.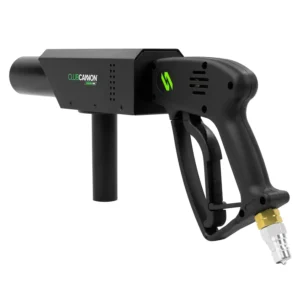 The cannon itself has a lot going for it. It's much more lightweight and ergonomic than our previous cannon. It's ergonomic, built like a tank, and looks great. The two-handle design lends itself to a super solid grip. When you're shooting off CO2 the force can be quite powerful, and you want to have that additional grip for maximum holding power.
For our DJs Guru fam, we wanted to create something unique to us – a Club Cannon Handheld MKII package. For starters, you're going to get the actual cannon as well as a solid transport case. There's also an 8-foot hose and a washer for the tank connection. Lastly, instead of a monkey wrench like we had to use for our last cannon, you'll find a purpose-built wrench for quick connections of the gun to the CO2 TANK.
Taking the Club Cannon Handheld MKII to an event
Talk is cheap – what matters is how the Club Cannon Handheld MKII performs at an actual event. After 2 bad experiences with our previous cannon, we were a little nervous to continue using CO2. Luckily, the good folks over at Club Cannon calmed our nerves a little bit. At our event, the only word that came to mind was SIMPLE. Compared to our previous experience, connecting the gun to the tank was a breeze. Between you and us, we didn't even have to use the included wrench. After a few test shots, we were happy to see NO leaks at all. If you haven't, make sure to check out our review video on the Club Cannon Handheld MKII to see some action shots.
Club Cannon Handheld MKII – final thoughts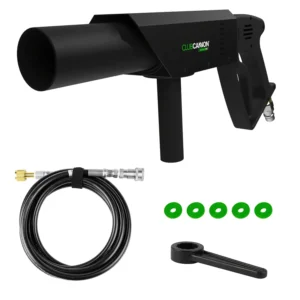 A CO2 cannon can enhance and bring the WOW factor to almost any private event. We get it, CO2 products may or may not work for everyone. However, if you are looking to incorporate CO2 effects into your events and take them to the next level, the Club Cannon MKII gets our full support. It just works, and by simply holding it in your hand you can tell it's a superior product to the other offerings on the market.