The DJ community is unique from other entertainment industries in many ways. Our schedules, creative freedom, and single-handed control over an event's success are a few that come to mind. One way that DJs are not different, however, is in the need to network among peers. While many newcomers to the DJ space try to go at things alone, there is a better way. Take a look at those DJs who seem to be at the top of their game. Notice anything? They're almost always surrounded by a team of like-minded fellow DJs. Whether it's on a local or national scale, creating a network of DJs who you trust and respect is a surefire method to build your knowledge, find new friends and business associates, and advocate for the DJ industry.
DJ Networking – The Why
Networking can seem daunting at times. DJs are usually naturally outgoing individuals, but extending that outgoing nature to peers is difficult. It's easy to feel like you're being examined or judged when you are meeting with someone in the same profession as you. After all, what if they are a better mixer than you or have fancier equipment? In reality, these worries are unfounded. The truth is that most DJs, when you get past the inherent pride in our craft that we all hold to some degree, are out to enjoy and further develop their talents. When you realize that other DJs share your same goals, it's much easier to reach out and get to know them.
Knowledge
There is always something to learn in the DJ sphere. New mixing techniques, music releases, and gear options are becoming available each year. Even someone with their ear to the ground is not going to be able to know everything. By networking with other DJs, you'll pick up on new trends that may not have crossed your radar yet. Gaining knowledge can go beyond simple conversations and social media messaging – organized meetings and conferences offer structured education on how to be a better DJ and businessperson. Simply "hanging out" with DJ peers is another way to build your skill set. An afternoon spent mixing behind the decks is a great way to foster a relationship, have fun, and nail down new techniques.
A Safety Net
Another fantastic benefit to DJ networking is creating a solid safety net for your business. Life happens, and there will inevitably come a time when you'll find yourself in a bind. Sickness, accidents, or faulty gear can wreak havoc on your plans for an event. With a good DJ network in place, you'll have peers to rely on who can step in when you need help. Likewise, you can be a lifeline for other DJs who need events covered or are looking for a piece of equipment. As you build trust with the DJs around you, you'll become a source of referrals for each other. You'll be able to confidently refer your friends to potential clients when you don't have availability for a certain date, for example. This is an invaluable asset to have in your pocket.
DJ Networking – The How
In the second half of this article, I'm going to discuss a few ways you can start networking with other DJs. You can put some of these suggestions into action today, from the comfort of your own home. For others, you may need to venture out into your city or even across the country. No matter what you do, simply beginning to network with DJ peers is a step in the right direction.
Utilize the Internet
Over the past decade, we've been able to network virtually like never before. There are hundreds of DJ-focused communities across the internet available with a few clicks on your phone or computer. These dedicated forums and social media pages range from small local groups to national groups with memberships in the thousands. You may not have a DJ in your market that does exactly what you do, but it's easy to find someone who shares your interests somewhere in the world. If you're looking to bring an innovative service or type of DJing to your local area, you can seek out advice from someone who may have been offering that service for years.
The internet levels the playing field, making high-level DJs easy to approach and start a chat with. Many people are much friendlier than you'd expect – try initiating a conversation! Be someone who not only takes but gives as well, offering your tips and tricks to others in these groups and participating in the conversation.
Meet Your Local DJs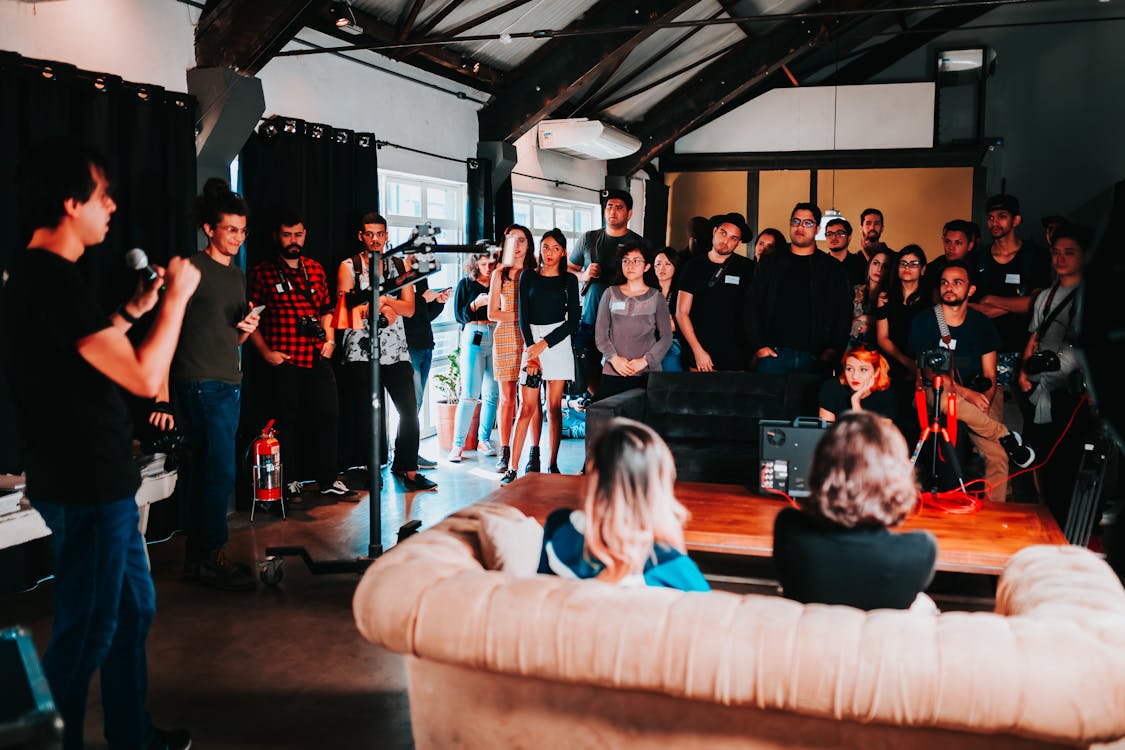 Talking on the internet is fine and dandy but getting out and meeting local DJs is even better. When we shift our mindset from one of competition to collaboration, our entire outlook on business can change. The easiest way to stop considering your local DJs as competition is to actually meet them and get to know them. What's their specialty? How do they work? What interests them? How long have they been in the industry? You may realize you have more in common than you thought. Find and connect with local DJs through their websites or social media. Invite them out to lunch and have a chat or invite them over to have a mix session. One-on-one meetings are a great way to build friendships and turn competitors into collaborators.
If your area has a local DJ group or chapter, find out when they meet. Become a member and attend the meetings. Organize your own multi-DJ meetups where you can "talk shop" and geek out over your passion for DJing.
Attend a Regional or National Conference
For many DJs, one of the biggest turning points in their careers was the moment they attended their first big DJ conference. It can be extremely motivating and invigorating to find yourself surrounded by hundreds of DJs with the same goals and passion as you. A large DJ conference offers unparalleled face-to-face access to DJ peers from around the country and the world. They also offer structured education from high-level DJs and the chance to put faces to the names you interact with across social media. You can mastermind with a circle of 10 DJs or break off for a quiet lunch with someone you admire from another state. Be sure to grab everyone's social media and contact information so that you can keep in touch after you return home.
DJ Networking – Final Takeaways
The most important rule of DJ networking is this – just get out and do it. Too often, we feel comfortable in our own little bubble. Other DJs can and will become some of your greatest friends and resources. Take the step to invite a DJ to lunch, organize a meetup, or ask a question. Be interested in their business and their DJing and, frequently, they will do the same for you. In the process, you will learn, build your business, and strengthen the DJ community in your area and across the world.