Because Electro-Voice makes such incredible speaker systems, sometimes people forget that they also make amazing wireless microphones as well. You may be surprised to know that EV started out as a microphone company! In fact, Neil Armstrong's famous first words from the moon were recorded on an Electro-Voice microphone. Today, we're going to talk about the EV RE3 wireless system and why we think it's one of the best values out there for DJs, musicians, mobile entertainers, and anyone else looking for a crystal clear wireless microphone setup. For weekend warriors that need a solid, dependable microphone, the RE3 delivers in spades. Is the RE3 the best wireless microphone under $600? Let's find out.
Order now at our partner site DJEVentGear.com
Build Quality and Frequencies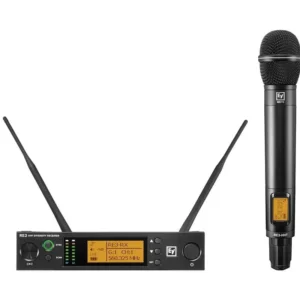 Out of the gate, the construction and build quality feel professional. It's solid in the hand and has a sleek, modern look. The black grille (as opposed to the traditional silver) is a nice touch. The design is also thoughtful – the power button is hidden away at the bottom of the mic. Why is this great? It prevents unintended power-offs by either you or an unsuspecting event guest. The receiver also has a well-made, metal housing.
Turning to the receiver we can start talking about the frequency range. The RE3 is a UHF microphone system and our model is in the 6M band. Why does this matter? As you might be aware, a large chunk of wireless frequencies in the 600 MHz was sold recently that previously were utilized for microphone transmission. What you may not realize, however, is that the FCC set aside a specific group of frequencies specifically for wireless microphone systems. The 6M band, in particular, is a global band that can be utilized anywhere. No matter where you are in the country, the 6M band will be available for you. With 400 adjustable frequencies, you're sure to find an open channel to work with.
Ease Of Use
We are also big fans of how easy it is to pair the receiver and the microphone. We're big fans of not having to tweak settings and mess with pairing if we don't have to. As soon as we turn on the receiver and pushed the scan button the unit found the best frequency in the room for our use. Then, simply pushing the sync button paired the mic and receiver together. In a matter of seconds, our entire wireless microphone system was ready to go. Simplicity and ease of use are big plusses with this system
There's another big positive to the RE3 system – paddle antennas. Have you heard of them? Normally, they're an additional purchase you have to make to work with an existing wireless microphone system. Their purpose is to boost the signal and ensure greater range and transmission. The RE3, however, already has paddle antennas built in out of the box. This is a huge added value and a major selling point for the system, further making the case that this may be the best wireless microphone under $600.
Testing Time
The RE3 is a dynamic microphone system with a cardioid pickup pattern. What does that mean? A dynamic microphone is made to be rugged and durable for life on the road. It does a great job of filtering out background noise thanks to the cardioid (heart-shaped) pickup pattern. It picks up sound directly in front of the grille while rejecting noise from the sides and back. Dynamic microphones can handle high sound levels easily, which you definitely need at a live event.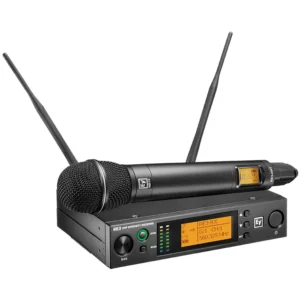 After getting comfortable with the system we headed outside for a distance and sound check. We began backing up – 65, 100, and 200 feet came and went easily. We passed 300 feet and could still be heard without a problem. While this is probably the furthest you could reasonably expect a mic in this price range to go, we decided to push the limit. 400 feet? We still didn't have any dropouts! At 500 feet we were blown away by the fact that we could still be heard without issue back at our receiver. It's safe to say that distance isn't an issue for the RE3.
Final Thoughts
The Electro-Voice RE3-ND76 is a phenomenal value for mobile entertainers. When you consider the distance you can transmit, including antennas, and all of the other features it's easy to see why we love this microphone. There are plenty of microphones in its price range but not many that deliver as much bang for your buck.
What do you think of the RE3? Is it the best wireless microphone under $600? Let us know in the comments!
Order now at our partner site DJEVentGear.com