Eliminator Frost FX Bar Review
DJ lighting manufacturers have been creating combo effect lights for at least a decade. Some have been unique and innovative; others have been a little overwhelming. When it comes to packaging multiple effects in a single fixture, it can be difficult to create something new that serves a purpose and doesn't look cheesy while doing it. The new Eliminator Frost FX Bar seems to hit both points and comes in at a very attractive price. Capitalizing on the current craze for glowing bars and tubes, the Frost FX Bar is evidence that Eliminator is listening to the market.
Learn more or order at DJEVentGear.com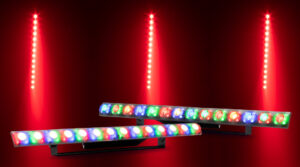 What it is
At first glance, the Eliminator Frost FX Bar looks like any other LED bar we've seen in recent years. However, on closer inspection, the gray translucent casing surrounding the main LED diodes tips us off that this is something different. The Frost FX Bar combines elements of beam effects, eye candy, pixel mapping, and wash lighting to create a light that offers flexibility in a wide variety of applications. 14 bright, narrow beams shoot out from the light, providing the main effect expected from a fixture of this type. However, an array of smaller RGB diodes hidden behind the translucent case come alive and provide an eye-catching display of chases and fades.
Eliminator Frost FX Bar construction
The Eliminator Frost FX bar is a 1 meter light bar with a mostly metal build. In fact, practically everything is metal besides the plastic front cover. The light is super thin on the edges (like a flat-screen TV) with a bulkier center section for the connections and computing. A wide, sturdy bracket is attached and offers three mounting holes for maximum mounting versatility. The bracket is also wide enough to be set on a stage or table. There is a standard four-button menu with an LCD display for adjusting settings.
One very welcome feature of this light are Powercon connections. These locking power cords prevent accidental unplugging of the lights and are normally found on more expensive models. Powercon in and out means that multiple fixtures can be linked together. There's also three-pin DMX for those that want to take control of their lights. The gray translucent case looks better than previous, white "frost" lights. This light bar wouldn't look out of place at a wedding or luxury corporate event.
Eliminator Frost FX Bar specs
The fourteen main LED diodes (RGBW in one version, W only in the other) use 3 watts a piece. This may not seem like much, but on testing they are bright! They have a focused, narrow beam angle that allows them to project across rooms easily. The RGB diodes hidden behind the case are smaller 5050 LEDs that, while not as bright as the main diodes, are bright enough to do their job. I initially expected them to be drowned out by the beams, but was surprised that they were clearly visible even with the beams at full brightness.
The colors on the RGBW version are rich and vibrant. The white diodes on the W version are a crisp, piercing, white light that cuts through fog in an impressive way. Both models have a variety of built-in auto programs and sound-active modes (more on that later). They also have options to invert the chases and master-slave multiple lights. You access the DMX menu via the display, and each model offers multiple channel modes (on the RGBW version, up to 100+ channels). If you're someone who wants to go deep with DMX programming, these are great lights to do it with.
Learn more or order at DJEVentGear.com
In use
We received one RGBW and one W version for testing and put them to use right away. Each model has its own pros and cons, so we're going to break this section into two parts.
We started with the RGBW version, which we think is the best option for the average mobile DJ. The name of the game with this light is versatility, and having colors in the diodes amplifies this principle. Many DJs don't want to bother with DMX, and this version has some fantastic built-in auto programs that look great. Chases, jumps, and fades move from one side to the other and are eye-catching.
One of the benefits of an "eye candy" light like this is that it doesn't need fog or atmosphere to look great. As more and more venues add restrictions on fog use, lighting needs to have an impact without leaning on atmosphere. Both the case and the beams are interesting to look at and the programs are unique enough to not be repetitive.
I didn't expect the light to be bright enough to serve as a standalone wash light, but I was surprised by the output across a smaller dancefloor-sized area. One of these lights could easily serve as a wash light for smaller venues, and a pair would most likely cover a medium-sized room. Granted, you'll want to be using programs that utilize most or all of the diodes and not single LED chases. Again, this RGBW model is the version the majority of DJs (especially those not using DMX) should choose for their setups simply due to the versatility and the strength of the built-in programs.
The W-only version is no slouch either. As mentioned before, the cool white beams cut through fog and across large rooms easily. When all are on, this light has brightness and punch on par with dedicated strobe lights. In fact, these lights would make phenomenal strobes for a larger production company or school-focused DJ business. Instead of spreading the 3 watts per diode across 4 colors, this version funnels all the power directly into the W beam effect.
The RGB lights behind the translucent case are the same as those found in the RGBW version. Unfortunately, the automatic programs are not quite as strong as the other model. There are some basic left-to-right chases and scenes, but the overall impact is not as powerful as with the RGBW version. However, keep in mind that these lights are DMXable – in the right hands, they can provide just as interesting of a show as the RGBW model.
In our minds, the W version is perfect for larger production companies and DJs doing high school dances, college parties, and other large events. It can serve as both eye candy and strobes. It can be had a little cheaper than the RGBW version, meaning buying multiples is a little easier on the wallet. When 2, 4, 6, or more of these lights are combined with some skilled DMX programming, they are sure to impress.
Final thoughts
It's refreshing to see a combo light that excites us. These Frost FX Bars come at an affordable price but offer a handful of pro features. Their build quality is excellent and their design thoughtful. They would be equally comfortable at a wedding and at a rowdy frat party. These lights are proof that Eliminator is paying attention to what DJs and their clients are looking for. Offering maximum value for the dollar, the Eliminator Frost FX Bar is a winner in the DJ lighting sphere.