Alright, we have a little bit of a confession to make. When the Aero Spot 60s first came to us, we didn't expect our relationship with them to last. Don't get us wrong – we knew they were a great concept. We bought them for review and just didn't know if they would fit our application. But then our application changed, and the  Aero Spot 60s allowed us to make that change seamlessly. Today, in our JMaz Aero Spot 60 review, we're going to talk about these awesome, battery-powered, wireless DMX moving heads. Whether you're a mobile DJ, club DJ, or anyone else in the event business, we think these lights are worth a look.
It's not your average moving head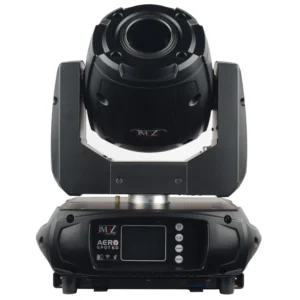 It's worth highlighting what makes this light unique right out of the gate – battery power and wireless DMX. The built-in battery can last up to 8 hours on a 5-hour recharge time. What does that mean? You'll be able to place this light on, say, a totem and not have to worry about plugging it in. Using a truss warming light underneath your totem? You'll have the cleanest look possible, with no dangling cable to disrupt the beam of light. The included "Wi-MAZ" wireless DMX allows a pair (or more) of moving heads to sync together easily. This allows you to eliminate the need for every. Single. Cable.
Now because of the battery, the moving head is no lightweight. Much to our roadie's displeasure, the JMaz Aero Spot 60 is a hefty light. It's very well-built, which stood out to us immediately, especially when considering the price range. All of the regular, expected moving head features you would see in a light at this price point are there. You've got a motorized focus, a 3-facet prism, and a respectable 60-watt LED diode inside. Modes like Music (sound active) and Auto are there, along with an included RF remote control. No line of sight is required to use this remote, which is a huge plus! For solo operators, the remote control offers a decent amount of control over the modes and features. We're also super happy to see Powercon (i.e. locking) in and out for linking multiple fixtures.
As we mentioned before, we initially bought this light just for review. However, once we started doing some real-world gigs with it, our opinion started to change. Event after event, the JMaz Aero 60 held up to the challenges we threw at it. Still, it wasn't anything that really stood out to us – we had plenty of time to get in and get out of all these events. A few months ago, things changed. We started taking the Aero 60 out to a bi-weekly restaurant gig that required a 30-minute changeover time from restaurant to club. It's at events like these when you realize that every single connection and plug-in takes time. The ability to have our JMaz Aero 60s already charged, synced up, and ready to go made it possible for us to do this event. We didn't have to worry about DMX cables or extension cords – we set the lights on the totems and away we went. Just like that, their value was obvious.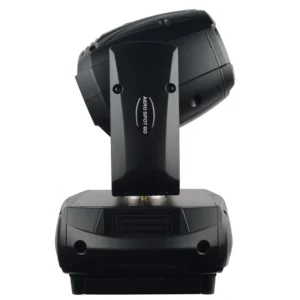 Now, when it comes to performance, all of our expectations were met (and even exceeded) in the brightness department. Sure, 200-watt LED diodes exist, but you need quite a large space to make the cost of those lights show their value. For the average DJ or performer at a wedding or private event, a 60-watt LED will easily demonstrate its utility in the rooms we frequently find ourselves in. Top off that brightness with battery power, wireless DMX, and an included remote, and you've got a simple solution to a DJ's most common problems.
One last thing
We can't forget to mention one other thing that stood out to us about these lights. We did an event where there wasn't much area available to place the trussing we normally bring. With your average moving head, this could be a huge headache. However, with the JMaz Aero Spot 60, we were able to find a place within the venue to set the light that didn't require us to provide our own "infrastructure." It almost looked like the light had been installed there! We're all about standalone here at The DJs Guru, and this was the perfect example of that.
In our video review of the JMaz Aero Spot 60, we demonstrated live on camera just how easy it is to power up and sync these lights. Within a few seconds of plugging them in, they were immediately connected and began working. Not only have these moving heads paid for themselves 10-fold, but they have opened the doors to events we wouldn't have been able to provide lighting for otherwise. Whenever you purchase a light for your business, you have to do the cost vs. benefit analysis in your head. Will this light help me make more money? Will they allow me to perform in places I previously couldn't? We believe that the JMaz Aero Spot 60 answers both of these questions with a resounding yes, which is why we're definitely not letting our pair go.
LOOKING TO READ MORE ABOUT THE JMAZ AERO SPOT 60? CLICK HERE TO GET THE BEST PRICES ON THESE LIGHTS AND MORE