If you've spent any time here at The DJs Guru you already know one thing – column array speakers are in and here to stay. Many of the top loudspeaker companies are making them, and the folks at LD Systems are no different. They call their column arrays the Maui series, and all of the models pack quite a punch for their size. Offering solutions from super compact to substantial, the Maui Series has an audio solution for almost every DJ. In this exclusive DJs Guru LD Systems Maui series buying guide, we'll go over the important collective features these speakers share. We'll also break each model down and tell you what makes it unique along with best applications.
Each model in the series has its strong points, but all of the speakers share some common features. Let's break those down.
Ultimate Portability
One of the biggest selling points of the Maui series speakers is how easy to transport they are. The smallest models can even fit on the back seat of your sedan! LD Systems boasts that musicians can carry their entire system, including their instrument, in a single trip. Just throw the column segments in a padded shoulder bag, the subwoofer in one hand, and your instrument of choice in the other.
Wide Dispersion Characteristics
All of the speakers in the line are column arrays, utilizing the popular design to deliver wide dispersion and even sound. For those that are unfamiliar, column arrays stack multiple speaker elements in a verticle line to take advantage of some advanced audio science. The result? A sound dispersion that is wider than the typical horn-loaded loudspeaker – in the case of the Maui series, 120 degrees horizontal!
Built-In DSP and Connectivity
Inside each speaker is powerful digital signal processing (DSP) circuitry, offering a customizable audio experience for users. Highlights include a limiter to protect the speaker from distortion and clipping along with an EQ. There's also a compressor and, get this, a 3-band crossover with run time correction. That's some serious power packed into every model in the lineup! There's even built-in high-quality Bluetooth streaming for playing your favorite tracks wirelessly over long distances. Want to throw on some background music while you set up or prep? In a matter of seconds, you can do so.
Now that we've hit the standout features of the entire series, let's dive into the specifics of individual models.
The Maui 5 is the smallest member of the lineup, but don't let its size fool you. Behind its 11kg (24 lbs) size is an impressive 800-watt amplifier putting out a respectable 120db max SPL. Remember how we mentioned some speakers in the series can fit on your car seat? Yep, this is one of them. The base holds an 8″ subwoofer and amplifier, complete with all the fancy processing circuitry we discussed before. The column itself has 4 x 3″ mid/hi-range drivers with neodymium magnets. Despite being the smallest in the lineup, the mixer section is still rather complete. It boasts stereo line-level inputs, XLR microphone input, MP3 or aux inputs, and even a hi-Z input for your instrument. The entire system connects in seconds using custom multi-pine connectors, as well.
Best applications: solo musicians, cocktail hour, background music applications, practice spaces, small coffee house
The LD Systems Maui 5 GO is very similar to the Maui 5 with one big difference – an onboard battery offering up to 20 hours of playback! Many of its features, like the 8″ woofer, 3″ midrange drivers, and amplifier, are identical to the Maui 5. The battery, however, makes the Maui 5 GO ready to head to even the most event locations. Depending on the volume, the battery can last from 20 hours (96 dB lounge settings) to 6 hours (120dB party environments). The battery is also easily swappable, so theoretically you could keep the party going indefinitely with enough battery packs. It even recharges on a very handy, compact charging dock!
Best applications: Remote weddings ceremonies, street performers, mobile entertainers, outdoor cocktail hours, backyard parties, poolside DJ
What is the difference between the Maui 5 GO and Maui 5 GO 100?
Before jumping to the next speaker in the series, we wanted to answer a question we get fairly often – what is the difference between the Maui 5 GO and the Maui 5 GO 100? On paper, these speakers look extremely similar. The difference lies in their battery – the Maui 5 GO has a larger 5200 mAh battery while the Maui 5 GO 100 has a smaller 3200 mAh version. That smaller battery comes with some weight and price savings, so if you aren't needed any marathon speaker sessions, the Maui 5 GO 100 could be a great option.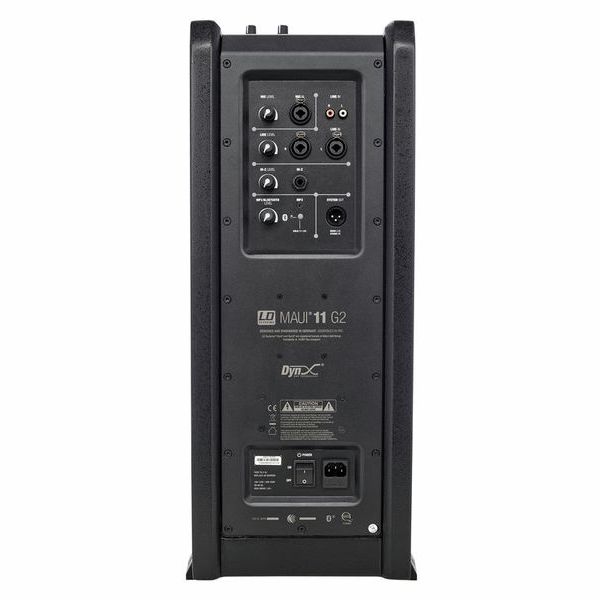 Moving on in the Maui series, the next stop is the Maui 11 G2. As far as the mixer section and internal processing, much of this is going to stay the same. The difference between the Maui 5 and Maui 11 lies in the speaker drivers themselves. Instead of a single 8″ woofer, the Maui 11 G2 sports three 6.5″ drivers in its base. The changes don't stop here, however; the column ups the ante as well with 8 x 3″ midrange drivers and 2 x 1″ tweeters. All of this adds up to a smoother, more even mid-range/high sound profile along with more output – 124 dB max SPL to be exact. Sound dispersion is still a wide 120 degrees with an extremely narrow 20-degree vertical dispersion. This means that less sound is wasted on the ceiling and floors and more is sent to your audience, where it should be.
Best applications: Singer-songwriter groups, duos, solo musicians, corporate speech reproduction, restaurants and coffee houses, small DJ events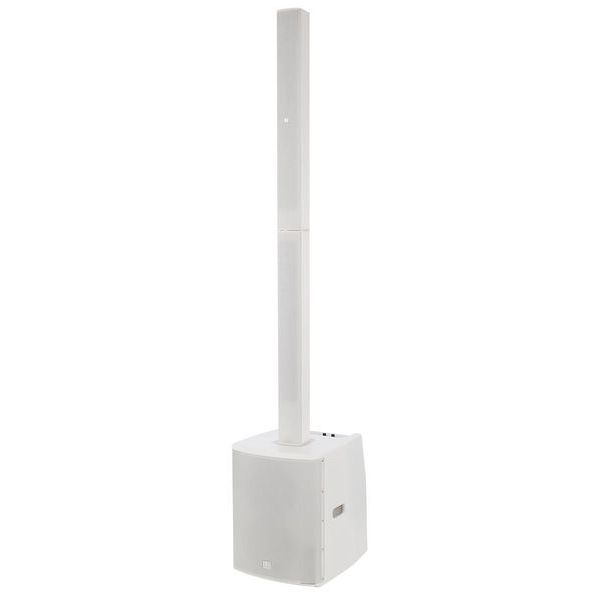 As we continue to climb the Maui series we see the speaker size and max SPL increase. Like the Maui 11 before, the Maui 28 G2 bears much of the same mixer section and design characteristics as the rest of the line. You do get the addition of a subwoofer output, however, if you'd like to further reinforce the low end. Speaking of low end, the Maui 28 G2 further ups the ante by including two 8″ drivers in the base, a whopping 16 x 3″ full-range drivers, and 2 x 1″ tweeters. This equates to an increase in output to 126 dB max SPL and low-frequency extension to 45 Hz. We're moving into a more powerful category here, for sure. The Maui 28 G2 is easily able to hold up to many a DJ's standard wedding gig.
Best applications: Wedding receptions, mobile DJ work, birthday parties, small bar gigs, corporate events, private functions, small acoustic band
The last speaker in the LD Systems Maui lineup is, as expected, the largest. Along with its increased size comes a change in materials, components, and more. The subwoofer and amplifier housing changes shape and is now made of very rugged birch plywood with an aluminum column housing. The amplifier gets a boost as well – to an impressive 1,500 watts RMS, which equates to a bumping 132 dB max SPL. This SPL is achieved, in part, due to the larger 15″ woofer that brings the low-frequency extension to 37 Hz. The subwoofer and columns are set up in a cardioid pattern, lowering sound levels behind the speaker by 15 dB and 18 dB, respectively. All of these changes mean a bigger, heavier speaker for when you need maximum, chest-thumping output for your events. The mid and high drivers all benefit from even more impressive audio technology including phase plugs, compression drivers, and waveguides specifically tailored for the 44. The Maui 44 G2 is a serious system for serious professionals.
Best applications: Mid-large weddings and private events, large corporate functions, mid-sized bands, bar gigs, small-mid school dances
The LD Systems Maui series is a lineup that contains column array speakers for a very wide variety of applications. From the ultra-portable to the biggest output, there is something for every mobile entertainer in the Maui series. Depending on your needs and the size of your crowds, we hope that this guide has helped you in choosing the next column array for your business.