Mackie Thump GO Review
The Thump name is synonymous with a few different words. Some that spring to mind are portability, great sound, quality, and bass. When the Thump GO came to market, a lot of DJs' ears immediately perked up. Would this new battery-powered version live up to the legendary Thump name? We got a model in our hands for review and we are excited to share our results. In this Mackie Thump GO review, we're going to talk about the features, do a sound test, and even a little stress test to see what this speaker is about.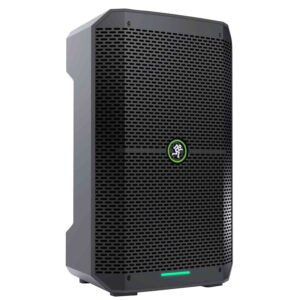 What it is
On the surface, the Mackie Thump GO looks like any other speaker. What makes it special, however, can be summed up in two words: Battery. Power. Inside the speaker is a rechargeable battery that holds an astonishing 12 hours of charge. For DJs, musicians, and anyone else that needs quality sound on the go, the Mackie Thump GO is the newest contender in the battery-powered speaker arena.
The shape and design of the speaker are sleek and modern. This is much improved over previous Thump speakers. It has a lightweight plastic cabinet and wedge shape. This wedge shape allows the speaker to be set on a flat surface for use as a monitor. Alternatively, you can use the pole mount for standard speaker operation.
Mackie Thump GO Review – Specs
The Thump GO is a compact speaker. An 8″ woofer is paired with a 200-watt amplifier and 1″ tweeter. The built-in battery is both rechargeable and removable. Included are a plethora of EQ settings, voice modes, feedback elimination, and more. The speaker also has unique features like music ducking mode and indoor/outdoor modes. You will find all of this within a small 2-channel mixer on the back of the speaker itself.
The speaker weighs only 18 pounds, making it easy to throw up on a stand for even the smallest of performers. You can use it with or without the power cord depending on your event needs. The Thump GO also has Bluetooth connectivity, with potentially completely wireless power and sound operation.
Running down the back of the mixer we see a few different settings. Voice modes include music, speech, mono, and sub (crossover). The green power indicator light on the speaker can be turned on or off for aesthetics. 
Mackie Thump GO Review – Sound test
Alright, enough talk about specs. We decided to throw on some music and finally get to listen to these speakers. We fired a pair of the Thump GOs with a pop-rock style track for our first test. After a few minutes of listening, we think the sound is crisp and clear. The output isn't the best we've heard compared to most of the PA speakers we listen to. However, it's important to keep in mind both the price point and the intended uses of a speaker like this. It's both affordable and compact, so the output is respectable for its class.
The sound itself is contoured nicely and balanced. It sounds just like the other Thump speakers we have come to know and love, just smaller. Our next test track was an electronic one with bass that comes in sharply. It's a complex song with a variety of synths and bass lines competing for space in the mix. This track was meant to test the bass of the speaker, and we are happy to report the Thump GO delivers. Like its other Thump brethren, there is plenty of bass to go around. With expectations in check (it's an 8″ woofer), it's fair to say we are impressed.
Other thoughts
The Mackie Thump GO isn't just a tool for mobile DJs. For a cocktail hour or wedding ceremony, it's absolutely a great option. In addition, its small footprint is perfect for musicians and mobile entertainers of all types. If you play an instrument, say, at a coffee house, it will work for you. The XLR and 1/4″ inputs plus battery power mean you can be set up in minutes with minimal wires.
Another great use for the Thump GO is a DJ monitor. In large or loud rooms, a DJ monitor can make mixing easier. If you're at an event where you aren't using the Thump GO, bring it along anyway. You might as well put it to work as a personal monitor when it's not being utilized elsewhere! Bands or other musical acts can place the Thump GO on the floor as a stage monitor as well.
Mackie Thump GO Review – Final thoughts
The Thump GO gets a big recommendation from The DJs Guru. Some may remember that in years past Mackie sold a product called the Free Play GO. The new Thump GO comes in at the same price point but is a product that is light years ahead. In the increasingly crowded market of battery-powered speakers, the Thump GO stands out as a great affordable option. If you'd like to pick up a Mackie Thump GO for yourself, make sure to visit DJEventGear.com.