The Reloop Stand Hub is a pretty awesome piece of DJ gear. So awesome, in fact, that our friend DJ Switch called it "The first laptop stand that made me stop and reconsider why I haven't used a laptop stand for so many years." Maybe you're like DJ Switch – until now, you didn't quite trust your laptop to any old stand. Perhaps you had an issue while working in a club at some point. You feared for your precious laptop's safety. You don't want to risk the one piece of gear that your entire career hinges on to a cheap stand! Instead, you've safely kept it on a table or case at all of your events. The Reloop Stand Hub, however, is not like other laptop stands. It has some uniquely compelling features that make it stand out from other options you'll find. It's also the perfect choice for DJs using the Phase wireless DVS system. So let's not waste any more time and dive right into our Reloop Stand Hub Phase Review.
Reloop Stand Hub Review – The Basics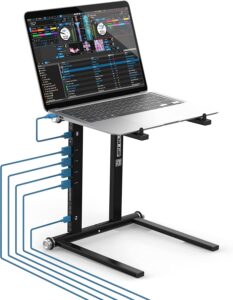 First off, the Reloop Stand Hub has a flexible design with 6 different adjustable positions. A couple of these (the Z and C shapes) are immediately recognizable to DJs. The other shapes have names like "lower C shape" and "higher Z shape," offering variations on the classic configurations that give DJs more options to customize their setup. It also folds completely flat for ultra-convenient transport to and from your gigs. You can easily change between these positions using a simple pushbutton (no tools required).
What makes it unique?
But what is much more unique are the ports built into the stand. It features 2x USB Type-C ports with up to 60 watts of power delivery. These ports can also transfer data quickly – up to 5 gigabits per second! If you like your standard USB Type-A ports as well, don't worry. There are 4 of these onboard for any additional DJ equipment you need to attach. Think hard drives, add-on controllers, and more. The stand can be used as an active or passive USB hub depending on your needs. It also includes features like a built-in short circuits, overcurrent, overvoltage, and overheating protection. What's more, you're not just getting the laptop stand – Reloop also throws in some cables and a nylon carrying case!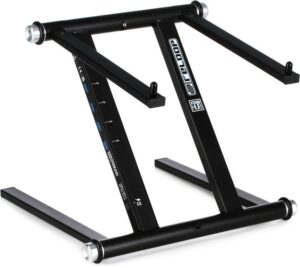 You'll also find soft foam pads and a non-slip rubber base keeping your laptop securely attached. The stand is super versatile and multifunctional and works for any electronic device from 11″ up to 18″. You're not limited to just using the stand for laptops – it works with tablets, loop stations, and anything else you want to throw on it. Pulling it out of the box it's easy to see this is a premium product. It's extremely sturdy and well-built. Overall, it has the weight and feel of a professional tour-quality product. It's not lightweight, coming in at 11 lbs., but we're fans of how solid it is.
What catches our eye?
Build and looks aside, what really catches our eye is the integrated USB hub. It's not just any USB hub, however – this is one of the higher-end USB hubs that's on the market, period. We aren't just talking about the DJ market either, but of all USB hubs in general. The 60 watts of available power delivery is enough to keep a MacBook charged! Yes, you head that right, you can charge and power your laptop directly from the stand. Not only that, you can deliver that power and all the data you need for your DJ setup via one single USB cable from the stand to the laptop.
This single fact is a huge benefit for DJs, especially those using the Phase wireless DVS system. Why's that? Older laptops that don't have newer USB 2.0 or 3.0 ports available sometimes struggle to deliver the power needed to run the Phase units correctly. This can start to cause problems for people using the system, an issue that a lot of Phase users have reported. The Reloop Stand Hub solves this problem, with its built-in USB 3.0 ports providing plenty of power to the Phase system. This also completely eliminates the need for standalone external power bricks that users have been relying on to power the Phase. That's how powerful the hub is that is built into the stand!
So why should I get one?
The Reloop Stand Hub isn't the first laptop stand to include a USB hub. However, it's the first stand with a built-in hub that was made with DJs in mind. It provides the power we need to keep our electronics functioning well. It provides the data speeds we need to make sure our latency is low, without drops or skips in the music. And it provides a solid, sturdy platform that we can trust to elevate our gear. When it comes to our highly valuable laptops, drum machines, loop stations, and tablets, it's not worth taking a risk on sketchy stands. The Reloop Stand Hub is the perfect solution for DJs looking for a streamlined setup and peace of mind.
We hope you found this Reloop Stand Hub Phase review helpful! Do you think this laptop stand is a game-changer? Let us know down in the comments!
Order now or if you have any questions, contact us below.