We'd be lying if we said that we don't think lasers are awesome. Sure, they've gotten a bit of a bad rep in the past because some DJs went a little overboard at a few weddings, but the fact of the matter is – lasers rock. When used correctly, a laser can be one of the highest-impact, most eye-opening light effects out there. Whether you're a DJ or a band, YouTuber or Gamer, or literally anyone who wants to add stunning visuals to your performance or content, a laser will most likely have your audience saying "Whoa." Today, we're going to tell you a little about one of the coolest, easiest to use lasers on the market, the Wicked Lasers Lasercube.
Lasers – and we mean high-quality, powerful, colored lasers – haven't always been very accessible. Up until recently, lasers have been big, bulky, and difficult to operate. They required complex controllers and a lot of knowledge to operate. The Lasercube from Wicked Lasers is different, though. It fits in the palm of your hand. It can be set up by almost anyone, anywhere. While you can use complicated control hardware if you choose, you can also connect it to your phone. But we're getting ahead of ourselves.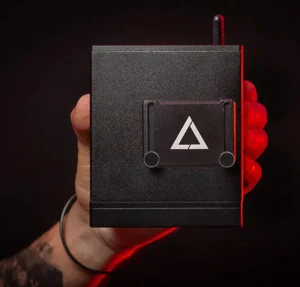 CHECK OUT THE ENTIRE LASERCUBE LINEUP HERE
Who/What is Wicked Lasers anyway?
Wicked Lasers knows a thing or two about lasers. Starting back in 2004, they were creating awesome handheld lasers that ended up winning Guinness world records. Flash forward to 2019 and they debut the first Lasercube, a groundbreaking development in laser show technology. Now, Wicked Lasers offers a variety of models to help anyone create amazing laser shows that were once only available to touring productions and museums. Their products are great for:
DJs
Bands
YouTubers
Videogamers
Twitch streamers
Photographers and videographers
Advertisers and marketing companies
Home use for Christmas lighting, home parties, and more
Enter The Wicked Lasers Lasercube
So what exactly makes the Lasercube so unique? We've already mentioned a few things, but let's dive a little deeper. First, the size: The Lasercube is only 4x4x4.4 inches and weighs less than 4 pounds. Want to set up a laser show on the side of a building or at a venue you're performing at? You could literally slip the Lasercube into your backpack and take it anywhere. It can be mounted in almost any way imaginable, from its included mini tripod to a camera mount or lighting stand.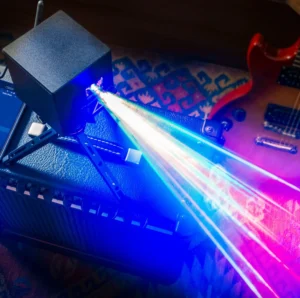 It's also worth mentioning it has got some serious power. While there are a few different models available (we'll touch on that more later), any of the options are going to have the juice to handle large areas. In fact, some demos on the Lasercube website show it working across HUNDREDS of feet. The great thing about lasers, however, is that they'll work just as well in your home studio.
Lastly, it's important to stress just how easy to operate the Lasercube is. Simply connecting it to your phone opens up a whole host of built-in features like:
Visualizers
Effects
Abstracts
Animations
Beam Shows
Freehand Drawing
Custom Text
Clock Display
Games
Logo and Animation Import
And much more
There are 3 great models in the Wicked Lasers Lasercube lineup, so let's talk about each of them.
Up first we have the base model, the Lasercube 1.2W. This is the most affordable and lowest-powered of the bunch. However, don't let the term "lowest-powered" throw you off – this guy still has a respectable 1.2W behind it. For those looking to add laser effects to their Twitch streams, home studio, and small to average-sized events, the 1.2W is the perfect solution. Inside you'll find 700mW blue, 300mW green, and 200mW red laser diodes that can pump out an eye-watering 16.7 MILLION colors. The built-in motors can scan at 25,000 points per second, meaning your images and animations are smooth and clear. Oh, and did we mention it can be used for 2-3 hours without being plugged in thanks to the built-in battery? Boom.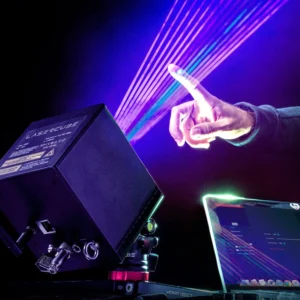 While specs are cool, most users really care about the end effect. How do I make the laser work and what is it capable of? That's where the awesome (and free) LaserOS app comes in. Whether you want to use the Lasercube over WiFi with your phone or through an ethernet connection to your laptop, the LaserOS software takes a lot of the hard work out of making a laser show. For those that want a cool background and ultimate ease of use, just set it to "auto" mode and let it do its thing. If you want to use the laser to gain followers or advertise a product, just upload your logo or image and let the laser do all the hard work for you.
For those that want to go a little more in-depth, there are hundreds of different designs, animations, and effects available to choose from. In addition to the 80+ effects, Wicked Lasers Lasercube 1.2W has the ability to display text, drawings, dances (yes, even Fortnite), and music-reactive abstracts. It can also do a live cast of your webcam, drawing what it sees in real-time. Oh, and we can't forget the cool piano and game modes it has as well. We're just scratching the surface – there's plenty more to do with the Lasercube. If you're a DJ or artist, you can even link the Lasercube to your Ableton.
Best for: Artists, photographers, videographers, streamers, DJs, advertising, YouTubers
The Lasecube 2.5W is very similar to the 1.2W with one big exception – the power. For only $300 more, it doubles the laser output from the 1.2W version. The effects, size, weight, and accessories stay the same between the two versions. You're still getting all of the awesome portability and ease of use, but with a little more "oomph" for those scenarios where you need to cover a larger area. Now, even though it's only $300 more, not everyone needs 2.5W of power. For those working mostly in their home or at smaller venues, the 1.2W may be more than enough for your needs. However, if you find yourself doing a wide variety of event sizes, or you anticipate that your business will grow in the future, it might be worth ponying up the extra dough from the start.
Best for: DJs, bands, nightclubs, bars, advertisers, production companies
Rounding out the Lasercube lineup is the 2.5W Pro. For those serious about the highest-quality, biggest impact laser show, the 2.5W Pro is your answer. Like the 2.5 and 1.2 before, it brings all the same ease of use and functionality in a compact package. However, there are two key differences that separate it from the regular 2.5W version. First is the motor, which offers 35,000 points per second of scanning, 40% faster than its younger brother. It also has an industry-standard ILDA input and output for connecting to laser control software or controllers for maximum programming options. Outside of these 2 big changes, the 2.5W pro has a slightly larger case (5.9″ vs 4.4″) for improved thermal ventilation and longer continuous run times.
Best for: Larger production companies, DJs, college dances, nightclubs, bars, large art installations
What Wicked Lasers Lasercube model are YOU most interested in? Let us know down in the comments! As always, be sure to visit djeventgear.com for the best deals on Wicked Lasers and other great audio and lighting equipment.