It's always exciting when RCF takes on existing technology and then puts its spin and improvement on it.  We covered and were impressed with the base series in our "RCF ART 9 Series Product guide" and this new iteration takes it a step further.  The ART9-AX powered speaker series is no exception to this consistent rule.  In this article from The DJs Guru, we're going to take a deep dive into this powerful but portable speaker and tell you all the nitty gritty information you need to know.
The RCF ART9-AX series is available in 3 models:

Interested in making a purchase?  Order at our partner site DJSupplyStore.com with discount code SAVE.
Elevating the "Wireless speaker" category is for the serious sound situation where a battery is not necessary and you need powerful, clean, and projecting sound in a portable, flexible design with extra inputs and wireless ins and outs.
Whether you're a DJ doing a ceremony, or a 2-piece band you'll be covered with class-leading Bluetooth technology that can receive a signal from a Bluetooth device but also send it to another AX series speaker. Plus (2) XLR/1/4 inputs for your hard wires.  They have been tested to have a range of 328 feet, so you can enjoy the convenience of Bluetooth without having to worry about the embarrassment of the dreaded drop-out.
You can contour your sound via a Smartphone or Tablet with the RCF LiveRemote App. It makes it easy to adjust the ART 9-AX mixer, DSP, FX, routing, and Bluetooth settings.  LiveRemote also allows full control of the internal ART 9-AX engine: recall and save presets, set your desired volume levels, adjust EQ, compressors, and FX, customize and tune your sound system, and much more. Available for Android and iOS phones and tablets.
RCF has once again delivered a product that aims to revolutionize the DJ industry. Join us as we explore the key aspects, advantages, and limitations of the RCF ART 9 AX powered speaker.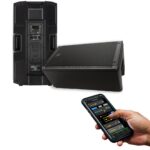 Design and Build Quality:
The RCF ART 9 AX boasts a sleek and robust design, constructed with high-quality materials to ensure durability and longevity. Its compact size and lightweight nature make it a portable option for DJs on the go. The speaker's well-thought-out design also includes integrated handles, simplifying transportation and setup.
Sound Performance:
When it comes to sound, the RCF ART 9 AX doesn't disappoint. Equipped with a powerful amplifier and a 15-inch woofer, this speaker produces clear and balanced audio across all frequency ranges. Its high SPL output ensures that your music will be heard even in large venues, without compromising on clarity or fidelity.
Advanced DSP Features:
One of the standout features of the RCF ART 9 AX is its advanced Digital Signal Processing (DSP) capabilities. With built-in presets for various applications, including live performances and DJ sets, this speaker allows for quick and easy optimization of sound to suit different environments. The intuitive control panel and LCD display make navigating through the DSP settings a breeze.
Connectivity Options:
The RCF ART 9 AX offers a wide range of connectivity options, ensuring compatibility with various audio sources. It includes XLR, jack, and RCA inputs, as well as an XLR output for daisy-chaining multiple speakers. Additionally, the built-in Bluetooth functionality enables wireless streaming, giving you the flexibility to play music directly from your smartphone or tablet.
Limitations:
While the RCF ART 9 AX excels in many areas, it's important to note a couple of limitations. First, the price point may be a consideration for some, as this speaker falls into the higher price range. Additionally, due to its powerful output, it may not be suitable for smaller venues or intimate gatherings where a more compact speaker would suffice.
In conclusion, the RCF ART 9 AX powered speaker proves to be a solid investment for DJs seeking top-notch sound quality, versatility, and durability. Its sleek design, exceptional sound performance, advanced DSP features, and various connectivity options make it a reliable choice for professionals in the DJ industry. While it may not be the most budget-friendly option, its superior capabilities justify the investment for those who prioritize audio excellence.
Lastly, a common question we have heard is:
"
Do the RCF ART9 Series speakers and RCF ART9AX speakers have the same specifications?  Can I use them together?
 The answer is YES! 
And many people have purchased one of each to add flexibility to their systems.
The RCF ART9-AX series is available in 3 models:
Need guidance?  Advice?  Contact us today and let us help you make the right decisions for your needs!