We are no strangers to portable column arrays here at the DJs Guru. If you're a long-time DJs Guru family member, you know we've written about our love for portable column arrays numerous times. These sleek sound systems have taken the DJ world by storm over the past 5 years. In fact, we'd go as far as to say that they've become THE sound solution for most professional working DJs. This is especially true in the wedding and corporate spaces. They offer fantastic sound combined with a modern design aesthetic and compact portability. While we've written about these amazing speakers before, we've never set out to answer this one question – what is the best portable column array for DJs? The truth is, there really is no single system that will work for everyone.
The Best Portable Column Array Systems – Our List
Today, however, we're going to give you our definitive list of some of the best portable column array systems on the market right now for DJs. We'll highlight fantastic options in every price category, from budget to top-of-the-line. We can vouch for these systems – their reliability, their value, and most importantly their performance. Whether you are a brand-new DJ or a seasoned pro, there is a system here for you. In addition to system-specific information, we'll point out the best applications for each set of speakers. And, as always, we'll include helpful links so that you can find more information about each system. Lastly, we here at The DJs Guru are always available to help you, whether that be answering your questions or finding the best price on the system of your dreams.
Check out our entire line of portable column array systems here
Best Portable Column Array Systems – Most Affordable
We mentioned in the introduction that there is a column array system for every budget and we mean it. The speakers in this section can be had for as little as a few hundred dollars up to around $1000, but each excels in its own price category.
The American Audio APX CS8 is the most affordable column array on our list but don't let its low price fool you. Despite the affordable price tag, this speaker is the perfect jumping-off point for a DJ looking to try out the column array ecosystem.  Built with a resilient plastic cabinet, the CS8 is light enough for even the smallest of DJs to transport. An 8-inch woofer and 4×2.5″ drivers deliver clean audio over a wide dispersion area. And, even more incredible at this price point, it has a built-in media player that can play tracks off of USB drives, SD cards, or wirelessly over Bluetooth. And did we mention the 8-input mixer? It's really hard to miss with so many features for only a few hundred dollars.
If you have apprehensive about column arrays and don't want to spend a fortune, start with the APX CS8. If you've already dabbled in column arrays but are looking for a backup system, the APX CS8 is a great solution. Check it out here.
Best applications: First column array, cocktail hour music, 2nd area speaker, delay speaker, backup system, background music applications
Since portable column arrays burst onto the scene, manufacturers have pumped out different models like clockwork. Some models, however, have generated more buzz than others. The LD Systems Maui 5 Go 100 is one of those speakers, offering a very compact, battery-powered PA option for DJs performing in locations without easy power access. Even when you have an outlet handy, the Maui 5 Go 100 is a phenomenal option when a DJ is tight for space. An onboard mixer with a hi-Z input makes this a great option for DJs who partner with musicians.
Wedding ceremony? The Maui 5 Go 100 is ready with a slim profile and sharp looks. The built-in battery we mentioned can last a whole 12 hours, so there are no concerns about running out of juice at a critical moment. The wide 120-degree horizontal dispersion and narrow 20-degree vertical dispersion ensure that you're not wasting power on areas without people. Check it out here in both black and white.
Best applications: Wedding ceremonies, cocktail hour, small corporate breakout rooms, DJ/musician combos, store grand openings
Another great option from LD Systems is the Maui 11 G3. Employing a unique setup of 6 x 3.5″ midrange drivers, and 2x 1″ tweeters, and 2 x 8″ subwoofers the compact but mighty Maui 11 can punch. Powering those drivers is 700 watts of power from the class D amplifier. Using LD's plug-and-play multipin connectors makes setup a matter of seconds. LD has put a lot of time into the acoustic science behind its drivers and waveguides and it shows. If you find yourself in a tricky location, you can even set up the top drivers and subwoofer separately. Talk about flexibility. Hitting 125dB peak sound levels, the Maui 11 is capable of handling a crowd. Check it out here in both black and white.
Best applications: Weddings, corporate events, private parties, small bar gigs, sweet 16s
RCF doesn't mess around when it comes to sound quality, even with their more affordable column arrays. The RCF Evox J8 is a portable array system featuring a larger 12″ woofer and 8×2″ full-range drivers along with a 1400W amplifier. Building on the successful characteristics of the original Evox speakers, it lightens things up in a composite cabinet. The J8 doesn't have a large mixing section like some of the other options on this list, but what it lacks in connections it makes up for in crystal clear sound quality. Uncompromising reliability and build quality are par for the course with RCF, and the J8 is no exception. Check out these links to read more about the black and white versions.
Best applications: Wedding receptions, medium size corporate vocal reinforcement, church functions, medium bar gigs, barmitzvahs, retail events
Check out our entire line of portable column array systems here
Best Portable Column Array Systems – Mid-Range
The speakers in the mid-range section of this guide are great all-around options for the working professional. They feature larger drivers, more powerful amplifiers, and enhanced features not seen in the budget choices. These are workhouse systems that will stand up to event after event, delivering high-quality sound for larger crowds. If you're new to column arrays and want to make a purchase that will grow with you, these speakers are worth a look.
As we move into the mid-range category, we'll start to see speakers with greater output and physically larger cabinets. The Maui 28 G3 ups the ante from the previous Maui 11 with a single 12″ woofer and a whopping 12x full-range speaker cones along with an additional 2x 1″ high-frequency drivers. The woofers extend the low end down to 37Hz, meaning that hip-hop and EDM are reproduced more faithfully with bass you can feel. The amplifier is also bigger, with 1000 watts RMS creating a max SPL of 127 dB. The cabinet is made of plywood, providing a warmer tone and sturdier construction. The system retains the narrow 20-degree vertical dispersion so that sound is not wasted on the floor and ceiling. Inside is LD's DynX DSP technology to keep the sound clear and distortion-free. You can pick up the Maui 28 G2 in both black and white.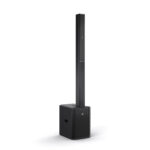 Best applications: Larger wedding dance floors, coffee shops, luxury retail, mid-size bars and venues, AV presentations, private events
The JMix 8 is similar to the JMix we discussed earlier with one key difference – the built-in 8-input digital mixer. This mixer has a lot going for it, with individual volume knobs and level monitoring for each channel. Additionally, the first 4 mic/line inputs have a single-knob compressor to level out sound levels on these channels. The main output has a 7-band graphic EQ to tune the system to the venue and performers. One of the inputs even offers Hi-Z mode and guitar amplifier emulation for musician accompaniment. The speaker can also be controlled via an app so you do not need to physically crouch behind the sub mid-event to change your settings.
When it comes to building quality, speaker drivers, and power output, the JMix8 matches up to its sibling the J8. One of the great things about the RCF JMix8 is the fact that you don't need to purchase two in order to have a great event. A single JMix 8, paired with a regular J8, offers cost savings along with the flexibility of an onboard mixing console. In this way, you're maximizing your system while only needing to purchase one unit with a mixer. Like the J8, you can get it in both black and white.
Best applications: DJing alongside musicians, small musical groups, wedding cocktail hour and ceremony, open house and retail events, dining, private parties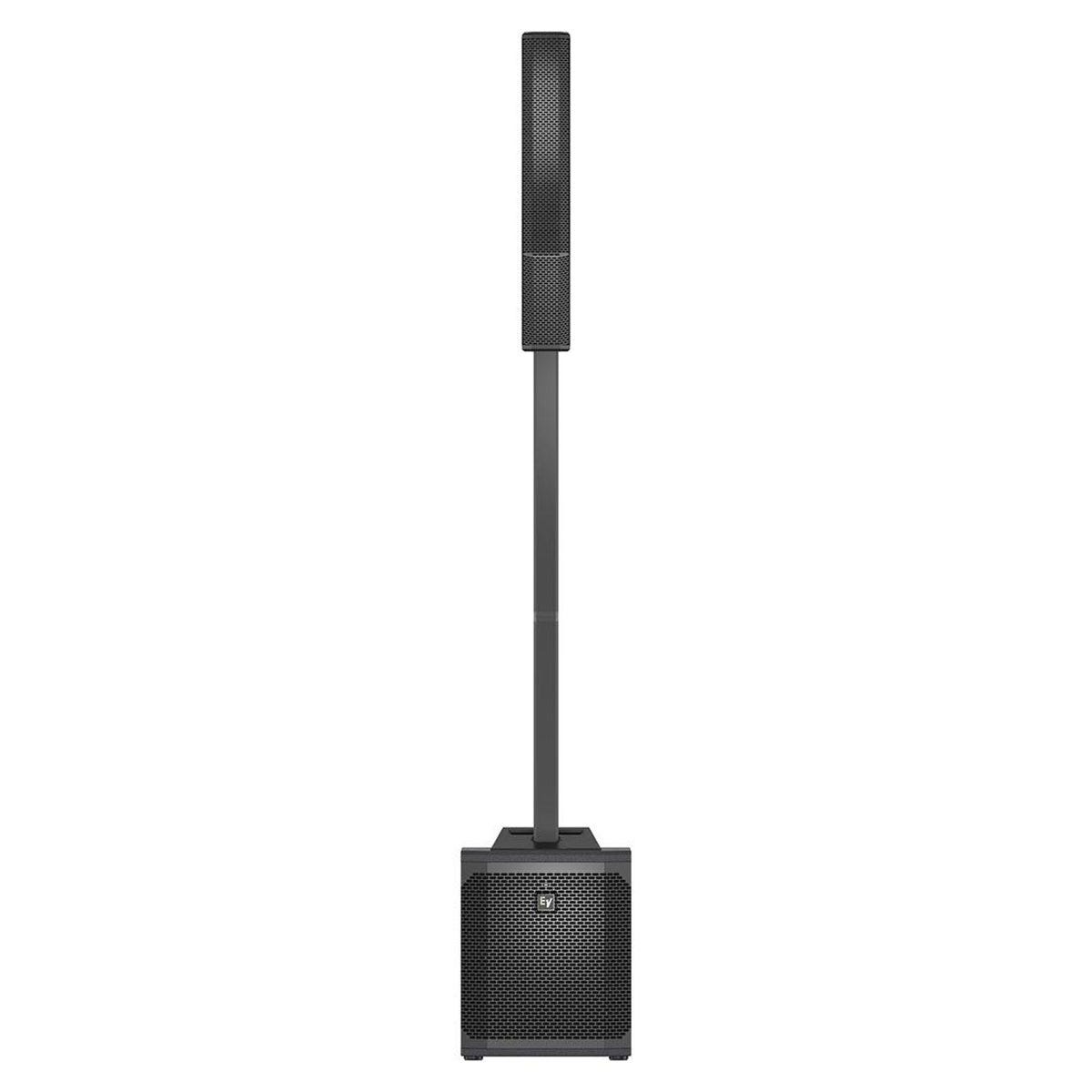 The Electro-Voice Evolve 30M evolved from the supremely popular Evolve 50 portable line array. A smaller, more compact option that retains much of the impact of the original, the 30M's claim to fame is the onboard mixing console. With a 10″ woofer, the 30M is still able to dig down to 45Hz on the low end. Power wise, its amplifier outputs a respectable 123 dB of power. The aesthetic is refined and iconic and the upper drivers connect with the base unit in a matter of seconds. These components are magnetically attached and slide together smoothly and quickly. We love to see a wood enclosure for the subwoofer imparting that characteristic warm EV sound.
The mixer itself is powerful, with 4 combo mic/line inputs, a stereo XLR/TRS line input, RCA, aux, and even an instrument input. There are even 30 preset studio-quality effects to enhance microphones and musicians with reverb and more. And yes, you can get it in both black and white.
Best applications: Corporate sound reinforcement, bar and small club gigs, wedding receptions, live music, combined DJ/musician sets, upscale restaurant contracts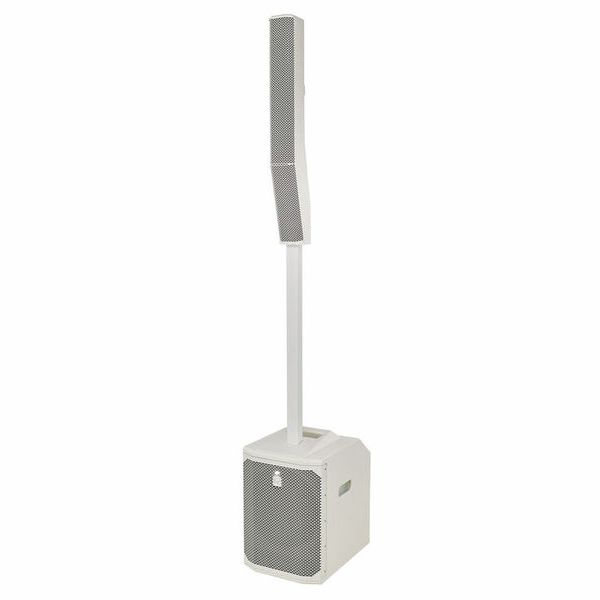 There's no doubt about it – the Evolve 50 is the standard for portable column array systems. While others existed before it, the hype that EV generated for this speaker set off a chain reaction that led to the widespread adoption of column arrays that we see in the DJ industry today. The Evolve 50 checks all the boxes. It has solid but lightweight construction and plenty of power for most DJ events. There's a 12-in. woofer to dig deep and a lot of smart EV tech on the inside. EV's companion app for the speakers allows DJs to manage up to 6 of the systems at once, a huge benefit for larger companies. As a company, they are known for rigorous testing and refining of their products.
The sound quality of the Evolve 50 matches its impressive design and build quality. The QuickSmart DSP display that is controlled with a single knob is another innovation repeatedly imitated by other companies. You'll see more Evolve 50 systems out in the wild than any other, and for good reason; they simply get the job done. Check them out here in black and white.
Best applications: Weddings, corporate work, outdoor events, car shows, club and bar gigs, rentals, sound reinforcement, private parties and events
Check out our entire line of portable column array systems here
Best Portable Column Array Systems – Top-Tier
If you're no longer a column array novice and are looking for a worthy upgrade the systems in this category mean business. The biggest subwoofers, the beefiest power amplifiers, and the best-built cabinets around make these speakers the cream of the crop. Offering a combination of rugged enclosures and top-notch sound quality, the portable column arrays below will not disappoint even the most discerning of DJs.
Imagine taking the industry standard for portable column arrays and making it better – that's the Evolve 50M. Similar to the 30M we discussed earlier, the Electro-Voice 50M takes the Evolve 50 and adds a powerful mixer to the subwoofer. It has the same array of inputs and output and a simple-to-use one-knob digital display. However, with its larger size, it offers bass extension down to 43 Hz and a max SPL of 127db. It even has phantom power should you need to plug a condenser microphone into the mixer.
As we mentioned in the RCF JMix8 section, having an onboard mixer increases the flexibility of the system exponentially. All DJs should have some sort of backup mixer available in the event their controller or CDJs were to fail. While you can carry an external mixer to your events, having one permanently attached to your speaker is the kind of redundancy we like to see. Purchasing one 50M and one regular Evolve 50 maximizes the system's capabilities for the least amount of money. Read more about the black and white versions here.
Best applications: DJ/musician combo sets, wedding ceremonies and receptions, open houses, car shows, sweet 16s, bar mitzvahs, corporate A/V
Shaking things up from the brands we've already discussed, we wanted to take a moment to mention the FBT Vertus CS-1000. These Italian-made speakers are as beautiful sounding as they are beautiful looking. FBT isn't as popular or well-known here in the US as some of the other brands we've talked about, but they should be. The system is a bi-amped system with six 3″ full-range drivers sitting atop a 12″ subwoofer. Both the top and bottom speaker cabinets are made of plywood, a great sound benefit. The subwoofer itself has a dedicated area to house the speaker and mounting pole so that you can transport the whole system as one unit. Talk about easy!
Unlike systems with a fixed mounting pole, the extendable one with the CS-1000 allows users to precisely dial in the height of their upper drivers. The best part of the CS-1000? The design is modular, with 2 subwoofers and 2 upper cabinets able to be combined together for greatly increased output. And you guessed it, they're available in both black and white.
Best applications: Larger companies needing a scalable option, weddings, corporate events, private parties, luxury retail
The largest RCF entry in this guide has been gaining popularity year after year. The Evox 12 system is a significant upgrade over the J8 and JMix8 for DJs who are serious about sound. A 15″ woofer and eight 4″ neodymium full-range drivers produce a peak SPL of 130dB, which nears the territory of rivaling many traditional speaker cabinets. Even with this high sound level, the Evox 12 delivers the crystal clear sound we expect from RCF. The subwoofer digs down to 40 Hz and the vertical dispersion pattern is slightly wider, allowing for broader coverage. Plus, DJs benefit from the countless hours of R&D that RCF has carried out to finely tune the sound of this speaker.
Overall, the RCF Evox 12 offers uncompromising audio quality and output levels in an elevated cabinet from a brand audio engineers and DJs trust. Click here to see the white version and black version.
Best applications: Large weddings, mid size bar and club gigs, small-medium school dances, large corporate sound reinforcement, outdoor A/V needs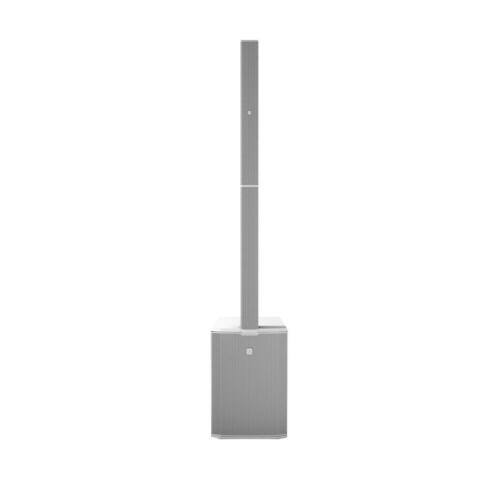 Lastly, we come to the LD Systems Maui 44 G2. The flagship of the Maui series, the 44 G2 is packing a giant 1500 W RMS power output. This amplifier power shakes out to an impressive 132 dB max SPL (the highest of this list). Not to be remembered for power alone, the 15″ woofer, twelve 3.5″ full-range drivers, and four 1″ tweeters give this system the widest frequency response on our list. Specifically, the speaker extends from 20,000 Hz on the high end to 37 Hz at the bottom. The column is unique in that is boasts "cardioid properties." For those that haven't heard this term, it means that the column has approximately 18 dB lower sound level in the rear than the front thanks to some clever engineering. Coupling another subwoofer in cardioid mode can lower the rear volume by a further 15 dB.
Everything from the birch subwoofer housing to the powder-coated aluminum column screams quality. This system is the biggest, bulkiest, and heaviest of the speakers on this list. However, given the large sound output, it's capable of, it's still quite compact. For DJs who need maximum bass and sound output, the Maui 44 G2 is ready to answer the call. Click the links to read more about the black and white versions.
Best applications: School dances, med-large bar and club gigs, large outdoor weddings, car shows, corporate sound reinforcement, graduations, street festivals
Check out our entire line of portable column array systems here